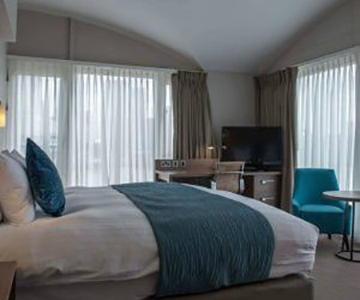 When there is a talk about important fixtures of a house, homeowners would agree that curtains and blinds are just as important as anything else. There is no denying that windows are a point of attraction for any home and that is why they are decorated with curtains and blinds.
Round-The-Year Comfort
If you are looking to select curtains for home improvement then you need to consider some important factors such as design, décor, and nature of the room. Here is what you need to consider if you are looking for curtains:
Living Room: This is a place in your home that requires the utmost attention. After all, it is one of the most used rooms in a house and works great for hosting guests as well. In order to make the living room look attractive and simply gorgeous, you need curtains that match with the furniture and color of walls.
Bedrooms: Given the fact that bedrooms require privacy, curtains are highly important. As the intensity of light coming from the outside world needs to be decreased for a restful sleep, therefore the curtains used in the bedroom needs to be of dark color.
Curtains and Blinds Regulate Sunlight
Direct sunlight is important but it can cause discomfort as well. Curtains and blinds are responsible for regulating the amount of sunlight that enters your house. This means that you can open the curtains if you want some natural light in the house or close them if you feel some sort of irritation.
Keeps the Room Cool
On hot days, curtains keep the room cool by decreasing the intensity of direct sunlight. Linen curtains are known to control the temperature of a room. Due to the insulation they provide, they keep the room cool in a summer season and warm in a winter season.
Provides a Touch of Elegance
Interior designers emphasize a lot on using curtains and blinds to make your home look more stylish and attractive. The interior of your home can be adjusted to a great extent by simply using curtains that complement the interior décor. Needless to say, if you are looking to make your home look more appealing, start with better curtains and blinds.
Prevents Dust from Settling on Furniture
Even if the windows are closed, the air contains dust particles that can enter the house through small openings. These dust particles settle on the furniture and make the house look untidy. If you are living in a populated city then using curtains is in your best interest.
And Of Course, Privacy
What better way to improve privacy in your home than using curtains and blinds. Well, one of the major reasons why people opt for curtains is to enhance the privacy of their homes. Along with many, you can also use dark colored and linen curtains to improve privacy.
Tips: Things to Consider When You Plan to Buy Curtains and Blinds
Purpose of Curtains and Blinds in Your House
Fabric quality and color
Patterns
Length and Lining
Dry Clean Only or Washing Machine Friendly
Tailored or Ready Made
All in all, it is safe to say that curtains and blinds can not only make your home look more attractive but can also provide additional privacy and temperature regulation. Make sure that you clean the curtains and blinds frequently. With curtains and blinds, you have endless options to choose from, make sure that they match with the interior of your house.